Duration: 15 days / 14 nights
Route: Tashkent — Bukhara – Shakhrisabz — Samarkand –Tashkent – Fergana— Osh-Bishkek — Suusamyr valley –SonKul — Kochkor villag e- IssykKul- Cholpon Ata petroglyphs – Bishkek — Moscow
Such close and at the same time so different these two countries with each other. Magnificent minarets, huge stone squares, majority of magnetic bewitching monuments and sculptures of antiquity in Uzbekistan are changing with Kyrgyzstan amazing mountain landscapes of majority waterfalls, rivers and lakes that are pure like a pearl on the bottom of sea.
At the same time warm climate and great hospitality like and delicious copious food conso

lidate these two countries creating marvelous colour and inviting you to realize really unbelievable traveling along The Central Asia Countries. And unique features of settled and nomad cultures revealing in national customs, traditions and handicraft will astonish even the most experienced travelers.

Day 1: Moscow-Tashkent (air)
PM Arrival to Tashkent by HY-604 at 16:50. Meeting with the guide and fly to Bukhara by HY-1327 at 19:10-20:55. Arrival and acc at hotel.
Dinner at local restaurant.
Accommodation at the hotel.
Day 2: Bukhara
AM Breakfast at hotel. Full day SS of: ARK Fortress (VI – XIX c) – in middle ages it was a whole town with the emirs house, with wives, mosques mint place, government institutes, store rooms, a prison and a square for public executions:
Bolo Khauz Mosque (1712) Mosque Near the Pool.
Chashma Ayub Mausoleum – the original construction dates from the 12th century rule of Karakhanid Arslan Khan, the earliest surviving dome was raised by Amir Temur in 1380 over the existing tomb chamber.
Samanid's mausoleum (IX – X c) – it was the first building in Central Asia constructed from backed bricks in the shape of a cube covered by a dome with unrepeatable geometrical brickwork design – a masterpiece of world architecture
PM. Lunch at local restaurant.
Lyabi – Haus (XVI – XVII c) – a complex with Nodir – Devon Begi madrasahs big pool surrended by trees
Trading Domes consists of three trading centers: Tok-i-Zargaron (1570) – Jeweler's Bazaar, Tok-i-Tilpak Furushon – Cap Maker's Bazaar, Tok-i-Sarrafon – Moneychanger's Bazaar.
Magoki Attori – in 937 the four-pillared mosque was burn the ground in a city-wide fire and in the 12th century the present mosque was erected, from which the focus of the mosque, the original southern portal remains.
Poikalon (XII – XVI c) architectural ensemble in the center of old Bukhara – includes the cathedral mosque "Masjidi Kalon", "Miri Arab" madrasah and the highest minaret (46 m) at that time in the Orient.
Dinner and accommodation at the hotel.
Day 3: Bukhara –Shakhrisabz-Samarkand (290+170 km)
AM Breakfast. Drive to Samarkand via Shakhrisabz. Arrival.
PM Lunch at local house. After lunch SS of:
Kuk Gumbaz Mosque and Dorus Tilovat Complex – (1437) this big Friday Mosque was built by Ulugbek in honour of his father Shakhrukh
Gumbazi Seydon – (Dome of Sseyids) finished by Ulugbek in 1438 as a mausoleum for his own descendants.
Doru Saodat Complex – The complex was built in 1392 by Timur and means the seat of power and might.
Hazrat Imam Mosque of 14 century
Ak Saray (white Palace) – Timur's summer palace.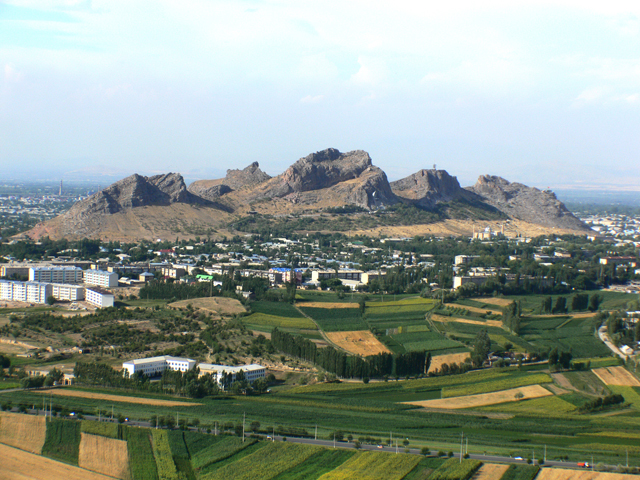 Drive to Samarkand.
Arrival and SS of:
Registan Square (XV–XVIIc) official center of Timur Empire, consist of grandiose madrasahs of Ulugbek, Sher Dor & Tillya Kari.
Gur Amir Mausoleum (XV c) Timurids dynastic burial vault. A unique monument of architecture with blue ribbed tessellated dome
Dinner and accommodation at the hotel.
Day 4: Samarkand-Tashkent(320km)
AM Breakfast.
Bibi Khanum mosque (XIVc) built by Timur to be biggest mosque at time. Architect, craftsmen & painters built in 5 years.
Bazaar(closed on Sundays)
PM Lunch at hotel.
Ulugbek's Observatory (XV c) 1st observatory in orient with 30m sextant built by Ulugbek to make exact astronomical catalogue
Shahi Zinda mausoleum (XIV–XV c) 'Town of Dead' a complex of more than 20 unique buildings of different ages.
Transfer to railway station for train "Registan" at 17:00-2:50.
Boxed-dinner at the train. Arrival and acc at hotel.
Accommodation at the hotel.
Day 5: Tashkent-Kokand-Rishtan-Fergana(350+100km)
AM Breakfast. Drive to Fergana. On the way in Kokand visit of:
Khudoyar Khan Palace (XIX c.) – the Palace of last khan Khudoyar. The Palace with 7 courtyards & 113 rooms, was completed in 1873, just three years before tsar'' troops arrived.
Djuma mosque (XIX c.) – The city's Friday mosque reopened in 1989 after decades of neglect & today accommodate up to 10,000 worshippers.
PM Lunch at local restaurant. Continue driving. Visit of:
Rishtan pottery center — famous potters and ceramic products of this region are coming from Rishtan. They are also well known in whole Central Asia. In local ceramic art there is a special style, named Rishtan style.
Arrive to Fergana.
Dinner and accommodation at the hotel.
Day 6: Fergana-Andijan-Osh(95km)
AM Breakfast. Drive to Osh border. On the way visit of:
PM Lunch is at local restaurant in Andijan. Cross Uzbek — Kyrgyz border. Drive to Osh, accommodation in Guest House.
Dinner is at the local restaurant.
Day 7: Osh – Bishkek (air)
AM Breakfast. Visiting of:
PM Lunch is in Kyrgyz family.
Transfer to the airport for flight to Bishkek by AU-12 at 18:15-19:15pm
Dinner and accommodation are at the hotel.
Day 8: Bishkek – Suusamyr valley — Kyzyl-Oi (200km)
AM Breakfast. Drive to to Suusamyr valley via "Ala-Bel" pass (3340 meters above sea level).
PM Lunch: on the way. Visit of:
memorial of national hero Kojomkul in Suusamyr village
Dinner and accommodation are in Kyrgyz family in Kyzyl-Oi.
Day 9: Kyzyl-Oi – Son-Kul lake (140km)
AM Breakfast. Transfer to Son-Kul Lake. On the way visit of:
PM Lunch is in Kyrgyz family on Son-Ku Lake.
Son-Kul Lake — The scene that greets you in Son Kul is surprising. The wide, brilliant, steel colored expanse of the lake appears majestic, quiet and transparent, looking like a huge bowl of pure mountain air surrounded by hills. Water and sky seem to meet here. Visit to shepherds yurts, walking at environs, ascending to one of nearby hills- form here we can see beautiful lake panorama. Here travelers have also horse riding opportunity
Dinner and accommodation in the Yurt camp on Son-Kul Lake.
Day 10: Son-Kul – Kochkor village (160km)
AM Breakfast. It is possible horse riding and other good time spending on the Son-Kul Lake.
PM Lunch is in Kyrgyz family.
Transfer to Kochkor village.
Kochkor village serves as a hub for the surrounding Kochkor village. Hospitable and affable people in agriculture and traditional Kyrgyz crafts live here. Felt carpet making display and handicrafts shop.
Accommodation and dinner in Kyrgyz family also.
Day 11: Kochkor village to South Beach of Issyk-Kul Lake (Tamga)(80km)
AM Breakfast.
Issyk-Kul Lake occupies the Central part of the valley created by the circle of the Terskey and Kungey Ala-Too mountain ranges. Issyk-Kul Lake is the largest in the Tien-Shan Mountains (6,236 sq. km.) and has a maximum depth of 703 m. The altitude of the lake is 1608 m. above the sea level. Issyk-Kul Lake is unique in that dozens of rivers and streams flow into it, yet none flow out.
PM Lunch is on the way.
Light hiking to the Tamga Tash
Dinner and overnight in the Yurt camp in Tamga.
Day 12: Tamga – Karakol (110km)
AM Breakfast. Transfer from Tamga to Karakol. On the way visiting of:
Jetty – Oguz — the extraordinary Valley of Seven Bulls, is famous for its unusually bright, red sandstone rock formations. Some of the valley s most celebrated landmarks include the broken heart (a crimson, heart-shaped precipice), the dragon s lair (spectacular, deep sandy canyon) and, of course, the seven bulls themselves (a row of crags dominating the Jetty-Oguz Valley).
PM Lunch in local restaurant in Karakol.
In Karakol city visit of:
The mosque Dungan that was built in 1907 year and it is the place of worship of Buddhists from all Central Asia. It built in the Buddhist pagoda style in wood. It was built without a single nail.
Century Church
Memorial of N.M. Przhevalsky
Dinner and accommodation in the Guest House
Day 13: Karakol – Bishkek(400km)
AM Breakfast. Transfer from Karakol to Bishkek by North Beach of Issyk-Kul Lake. On the way, visit of:
Cholpon-Ata Petroglyphs – Cholpon-Ata Rock paintings museum – above the town is a huge field of stones, many of them are with pictures scratched or picked into their south-facing surfaces. They apparently date from about 500 BC to the first century AD. The stones with petroglyphs are those with green inventory numbers painted on them.
PM Lunch in Kyrgyz family near by Tokmok city. Visit of:
Burana Tower that is situated in the center of ancient town – Balasagun. The tower is 24,6 miters high (original height was 45 miters). The territory of the museum with central ruins of the town is 36 hectares. There are stone statues – gravestones of nomadic Turks of the 6th to 10th centuries, petroglyphs from the 2nd century B.C. to the 10th century A.D., stone agricultural implements, epigraphy monuments
Accommodation is in the hotel. Dinner is at local restaurant in Bishkek.
Day 14: Bishkek — rest day
AM Breakfast. Sightseeing program in Bishkek city. Visit of:
White house – Palace made of white marble is a house of Kyrgyz government, including president's office and the republic parliament Behind the White House is Panfilov park with rides and arcades – the best place for the rest .
Kyrgyz national museum, which is telling about Kyrgyz history, culture and arts.
Freedom Avenue – the widest and greenest avenue among the SNG cities with century old oaks on both sides.
PM Lunch at local restaurant
Dinner and overnight in the hotel.
Day 15: Bishkek – Moscow (Flight)
AM. Breakfast. Transfer to the airport. Flight to Moscow by SU-180 on 28 JULY FRU SVO 0630 0905.