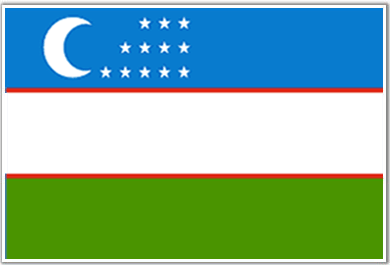 The Republic of Uzbekistan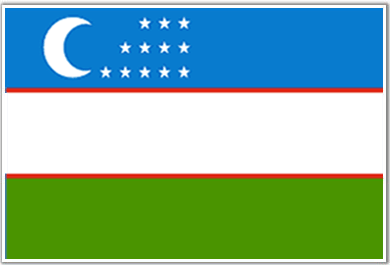 The Republic of Uzbekistan is the only doubly landlocked country in Central Asia and one of only two such countries worldwide. Less than 10% of its territory is intensively cultivated irrigated land in river valleys and oases. The rest is vast desert (Kyzyl Kum) and mountains.
There is little precipitation expected annually (100–200 millimeters, or 3.9–7.9 inches). The average summer high temperature tends to be 40 °C (104 °F), while the average winter low temperature is around −23 °C (−9 °F) that often considered as a continental climate.
The highest point in Uzbekistan is the Khazret Sultan, located at 4,643 metres (15,233 ft) above sea level, located in the southern part of the Gissar Range in Surkhandarya Province, on the border with Tajikistan, just north-west of Dushanbe (formerly called Peak of the 22nd Congress of the Communist Party).
So, Uzbekistan shares borders with Kazakhstan to the west and to the north, Kyrgyzstan andTajikistan to the east, and Afghanistan and Turkmenistan to the south. Before 1991, it was part of the Soviet Union.
Uzbekistan is one of the Turkic states in Central Asia.
Once part of the Persian Samanid and later Timurid empires, the region was conquered in the early 16th century by Uzbek nomads, who spoke an Eastern Turkic language. Most of Uzbekistan's population today belong to the Uzbek ethnic group and speak the Uzbek language, one of the family of Turkic languages.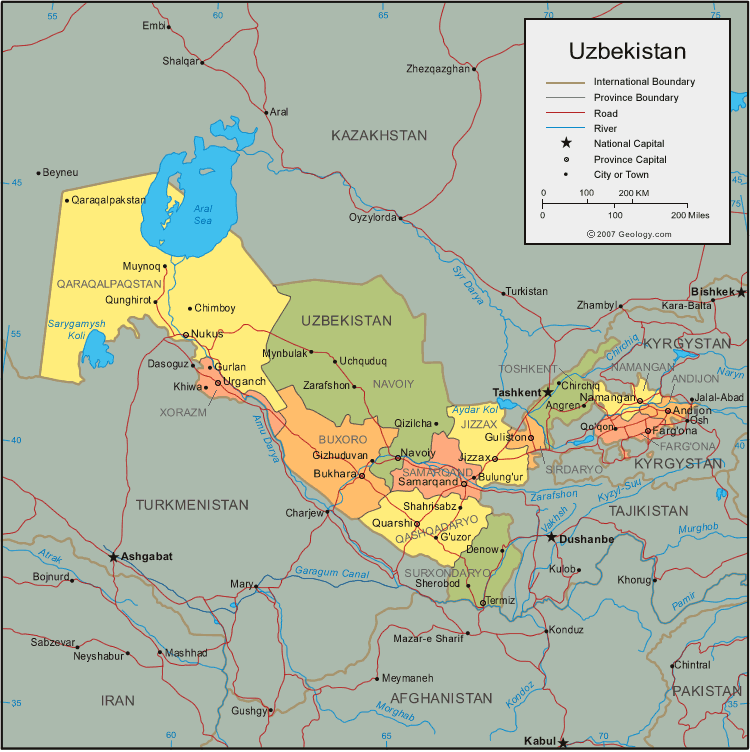 Uzbekistan was incorporated into the Russian Empire in the 19th century, and in 1924 became a constituent republic of the Soviet Union, known as the Uzbek Soviet Socialist Republic (Uzbek SSR). It became independent on 31 August 1991.
Uzbekistan's economy relies mainly on commodity production, including cotton, gold, uranium, potassium, and natural gas. Despite the declared objective oftransition to a market economy, Uzbekistan continues to maintain rigid economic controls, which often repel foreign investors. The
policy of gradual, strictly controlled transition to the market economy has nevertheless produced beneficial results in the form of economic recovery after 1995. Uzbekistan's domestic policies on human rights and individual freedoms have been criticised by some international organizations.
Uzbekistan has an area of 447,400 square kilometres (172,700 sq mi). It is the 56th largest country in the world by area and the 42nd by population. Among the CIS countries, it is the 5th largest by area and the 3rd largest by population.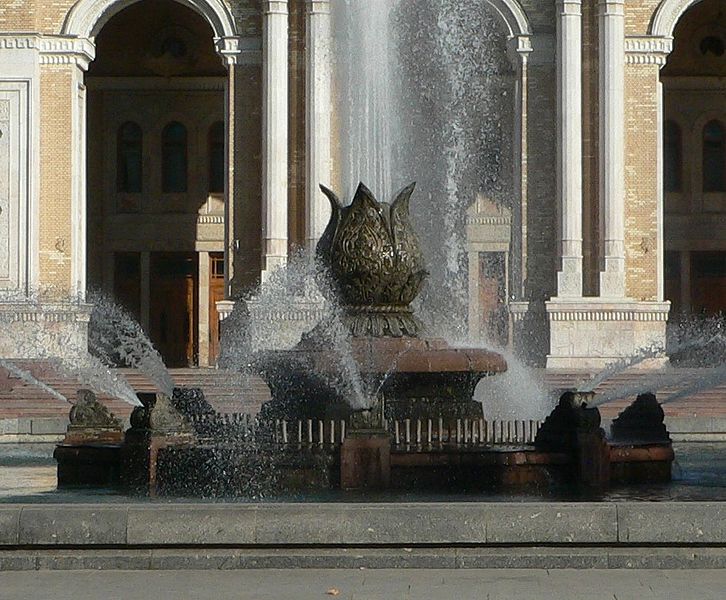 Major cities include Andijan, Bukhara, Samarkand, Namangan and the capital Tashkent. Many cities of Uzbekistan still save its uniqueness and national colour and ethnic flavour, presenting historical traces of centuries-old development features.
One of the most ancient cultures is Uzbek and on of the brightest and original cultures of East. It is visualized in inimitable national music, dances and painting, unique national kitchen and clothes. The Uzbek national music is characterized as variety of subjects and genres. The songs and tool plays according to their functions and forms of usage can be divided into two groups: performed in the certain time and under the certain circumstances and performed at any time. The songs connected with customs and traditions, labor processes, various ceremonies, dramatized entertainment representations and games belong to the first group.
The Uzbek people are well-known for its songs. Koshuk — household song with a small diapason melody, covering one or two rows of the poetic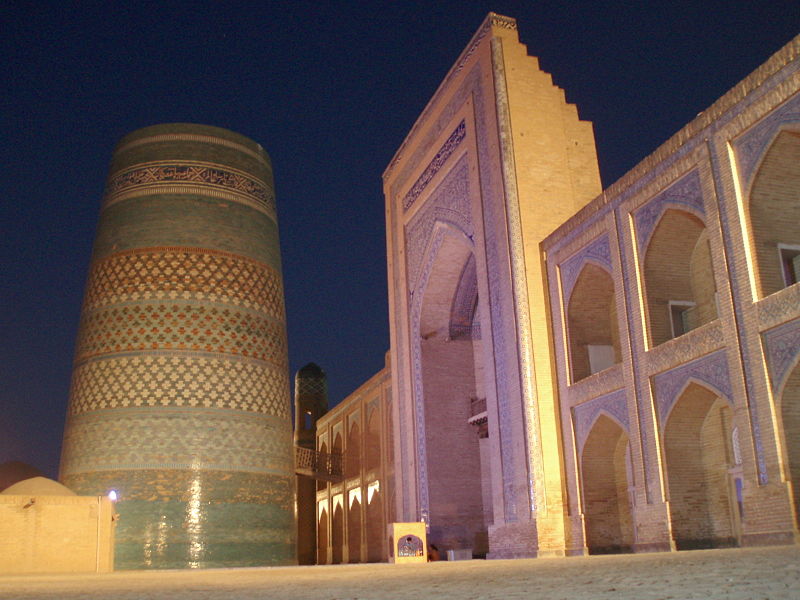 text. The dancing character of a melody of this genre provides their performance in support of comic dances. «Lapar» is a dialogue-song. In some areas the term — lapar is applied to wedding songs «Ulan» (which is performed as a dialogue of man and women). Genre «yalla» includes two kinds of songs: a melody of a narrow range, and solo simultaneously with dance. National and professional poems of the poets of East are used as the texts for the songs. The special place in the Uzbek musical heritage occupies «dastans» (epic legends with lyric-heroic content). Also «Makoms»- are the basic classical fund of professional music of oral tradition.
Dances of Uzbeks distinguish softness, smoothness and expressiveness of movements, easy sliding step with original movements on a place and on a circle.
The development of national painting began many centuries ago. At 16-17 centuries art of the manuscript and binding in Bukhara and some other urban centers has achieved significant success.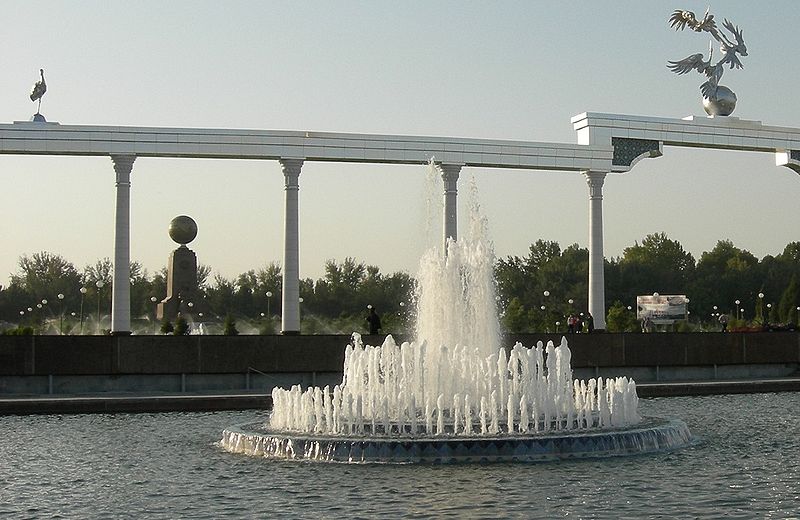 The decorating of manuscript included refined calligraphy, performance by water paints and thin ornaments on fields. In Samarkand and especially in Bukhara the Central Asian school of a miniature has achieved a great success and were developed many different style directions. One of them, for example is connected with traditions of Behzod, which characterized with its gentle style of writing the letter and architectural elements.
The Uzbek national clothes of the end of XX centuries remain constant up these days. The men in that time carried a direct cover shirts, bottom and top dressing gowns. The dressing gowns were very light and made from cotton wool. There were cuts on each side of dressing gown for convenience at walking. The trousers were made wide, of direct breed lent from top to bottom. Female clothes: dressing gowns, dress, «parandja»- also of wide breed.
Culture, handicrafts and tourism are rapidly becoming inseparable partners. Local crafts are important elements of culture, and people travel to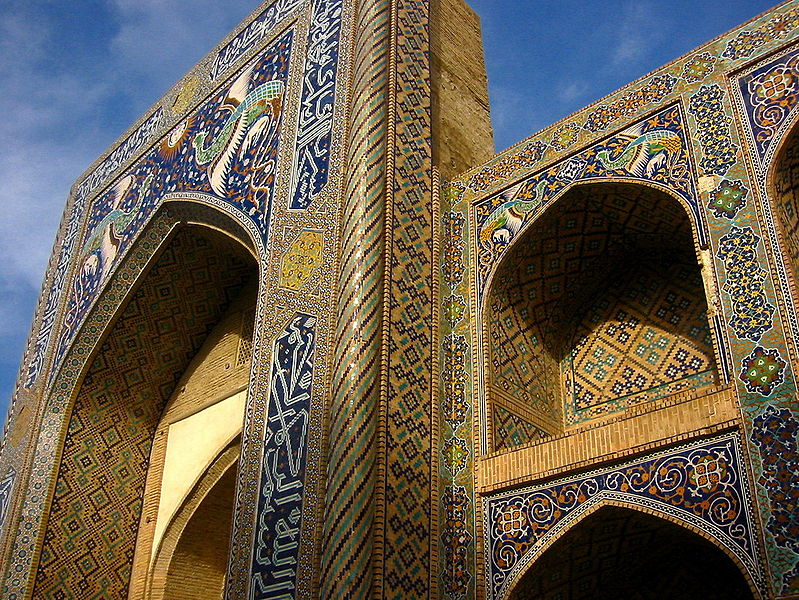 see and experience other cultures, traditions and ways of living. Crafts products form an important element of the purchases made by tourists, providing an important economic input to the local economy.
Applied art of Uzbeks has a wealth of variety when it comes to style, materials and ornamentation. Silk, ceramics and cotton weaving, stone and wood carving, metal engraving, leather stamping, calligraphy and miniature painting are some genres passed down from ancient times. Back in the past, each region had its own cultural and ethnic traditions the unique features of which were established by local guilds that have strengthened these characteristics through their art.
Uzbek craftsmen nowadays still practice ancient jewellery making techniques for cutting gemstones, grain filigree, granular work, engraving and enamelling, also they are trying to take into account fashion demands and styles.
Embroidery is one of the most popular trends of applied arts in Uzbekistan. Every city of Uzbekistan has its own unique features such as ornamentation, composition, colour range and stitching. The finest kind of embroidery, gold embroidery is still practiced in Bukhara.
The art of carpet weaving is also a very ancient form of art throughout Asia and the East, and nowadays it can be found in some of the cities of Uzbekistan today. The art of wood carving is used and adapted in modern interior design. Carved and painted tables, stools, caskets, pencil boxes and bookstands are popular pieces of furniture among local people and tourists. The art of Miniature painting and calligraphy has been revived again in its traditional form as well as some modern variants. For example miniatures stamped on leather, painted on paper miniatures, small lacquered boxes, framed pictures, pencil boxes and many other ideas skilfully painted by masters can be found in Uzbekistan.
More information about you could see on: http://www.uzbekistan.org/uzbekistan/culture/ and www.wikipedia.org  and