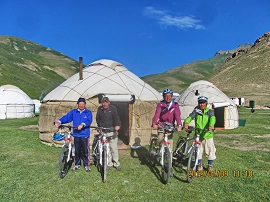 One more bike trip to Kyrgyzstan
July 16, 2015
Actually it is not a secret that our country is so fascinating and delightful, so many of our customers prefer to come here again. And just recently we were welcoming our friends from Japan who were determined to examine the mountain roads of Kyrgyzstan with bicycles one more time. They had a very cool trip in 2008, and now these brave Gentleman decided to overcome the unconquered mountain roads with a new itinerary. They were happy to experience the Kyrgyz hospitality and spirit of pure nature, to examine their forces with bikes and to meet our guides and office team.
One of the clients expressed the phrase that explained the tour in the best way — «Kyrgyzstan is a fairy tale that you wish to read over and over again».
We are always happy to see our friends here again and hope that Kyrgyzstan will become such kind of fairy tale for you.